HUMAN - Resolution
HUMAN - Resolution 217 A (III)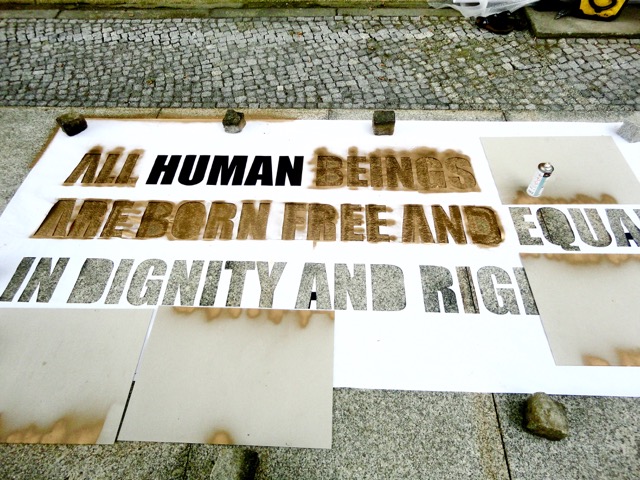 HUMAN - Resolution 217 A (III), temporary intervention, July 1. 2017, public space outside Galerie Nord, Berlin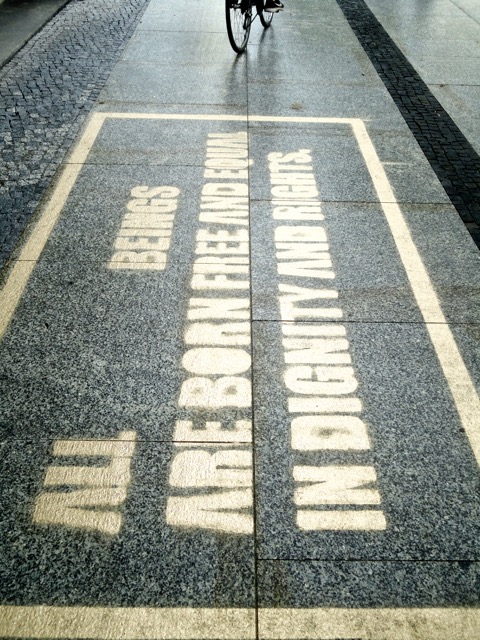 HUMAN - Resolution 217 A (III), 340 x 160 cm, temporary metallic gold-effect paint on sidewalk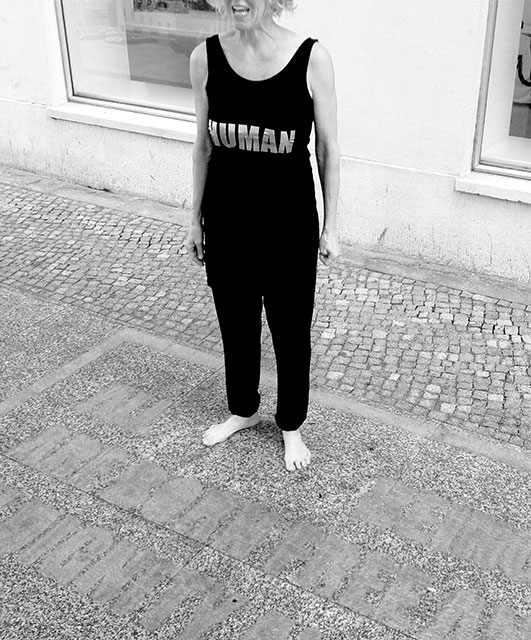 HUMAN - Resolution 217(III), Katja Sehl during public intervention, July 1st, 2017, Galerie Nord, Berlin-Moabit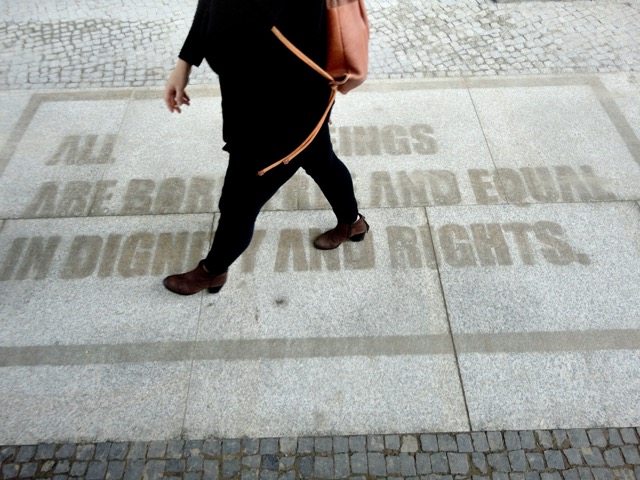 HUMAN - Resolution 217 A (III), July 5. 2017, gold to dust
HUMAN - Resolution 217 A (III), July 11. 2017
HUMAN - Resolution 217 A (III), July 11. 2017, detail
HUMAN - Resolution 217 A (III), temporäre Intervention im Rahmen von PROTEST,
Galerie Nord, Berlin-Moabit, 30.06.-02.07.2017

ALL HUMAN BEINGS ARE CREATED FREE AND EQUAL IN DIGNITY AND RIGHTS.

So lautet der 1. Satz aus Artikel 1 der Allgemeinen Erklärung der Menschenrechte, wie sie am 10.12.1948 von damaligen UN-Mitgliedstaaten verabschiedet wurde.
Es handelt sich hierbei um eine rechtlich unverbindliche, universale Empfehlung (Programmerklärung), die unter dem Kommissionsvorsitz der engagierten Demokratin Anna Eleanor Roosevelt, angesichts der unfassbaren Menschenrechtsverletzungen der vorausgegangenen Kriegsjahre, vorangetrieben wurde.
Doch nur circa 3 Jahre nach dem Ende des 2.Weltkriegs zeichnete sich bereits eine Polarisierung innerhalb der UN-Mitgliedstaaten ab, die sich in den Folgejahren zu dem manifestierte, was (im Westen) die Ära des Kalten Krieges genannt wurde.

2018 wird die UN-Menschenrechtserklärung 70 Jahre alt.
Doch welche Bedeutung hat die 30 Artikel umfassende Deklaration heute noch.
Durch das Weglassen des zentralen Wortes HUMAN wird die vom Geist der Aufklärung geprägte Universal-Botschaft verändert. Das verlorengegangene Wort hinterlässt eine Lücke im Text, dessen Inhalt jedoch erscheint durch die Reduktion erweitert, bereichert.
Auf dem Gehweg vor der Galerie Nord in Berlin-Moabit, ganz in der Nähe des LaGeSo, das 2015 zum Synonym für Menschenrechtsverletzungen wurde, verschwindet der mit Goldpigment aufgetragene Textblock innerhalb von wenigen Tagen…
Das Schlüsselwort HUMAN wird zum Shirt-Aufdruck und im Rahmen der Aktion getragen.


HUMAN - Resolution 217 A (III), temporary intervention,
Galerie Nord art gallery, Berlin-Moabit, 06/30-07/02, 2017

ALL HUMAN BEINGS ARE CREATED FREE AND EQUAL IN DIGNITY AND RIGHTS.

This is the 1.sentence/article1 of the Universal Declaration of Human Rights adopted on 10 December 1948 by a committee of UN member states.
The Declaration consists of thirty articles affirming an individual's rights, but they are not legally binding in themselves.

2018 will mark the 70th anniversary of the Universal UN Declaration.
But is this message of any personal, social or global significance today?
By dropping the essential word HUMAN, the meaning of the quoted phrase changes.
The missing word leaves a gap in the text block, nevertheless, the open space creates new meaning, allowing broader interpretative possibilities.
Just a stone throw away from the LaGeSo - synonym for human rights violations in 2015 - in front of the Galerie Nord art gallery, the gold pigmented text block vanishes within only a few days, the message going from gold to dust…
The key word HUMAN, printed on a shirt, is worn during the intervention.